AWARE Escape Room Research Challenge
As part of AWARE Training we can set exercises and tasks to test your CI skills and abilities. In an Escape Room you need to solve a task to escape the room you are in. Each room looks at a different CI skill. Solve all the tasks to escape - and get a certificate or prize or commendation.
We believe that we are the first (and so far only) competitive intelligence consultancy to offer such training options. Our escape rooms can be customised to your needs - and be bespoke to your company or industry. Or they can be general. They require participants to take on a role - and the escape room revolves around this role.  Escape Rooms are a fun way to learn new techniques - whether online research, analysis or even primary research / elicitation interviewing. They are excellent for team building - and can encourage staff collaboration as well as team competition. (Who can reach the exit first, for example).
Contact us to learn how to build an escape room for your company .
An example escape room follows - it was pilot tested at the Institute of Competitive Intelligence's 2021 Spring Conference (includes an introductory video) - or go to the final (exit) room for more information on AWARE's Escape Rooms.
---
"Escape! Your dream job awaits you."
You've been working for Dulles Ditchwater Ltd. since graduation and want a change. You realise you won't get a promotion with your current management and so have to escape to a new role. You have a chance. Wunderbar Ltd is looking for a new competitive intelligence expert.
You see an advert in the Daily Mercury advertising a job with Wunderbar Ltd for competitive intelligence analysts. The advertisement says that to be recruited, you will need to show your abilities in solving competitive intelligence related challenges (although they may not all involve CI – some may involve problem solving).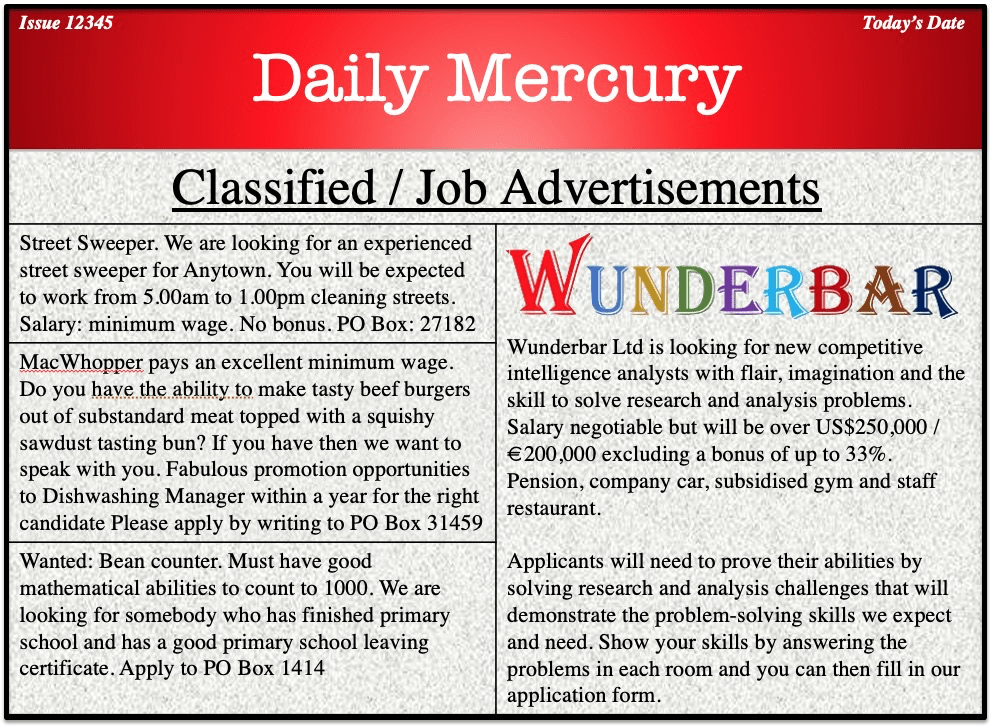 Each problem will have a one-word solution which is the password for the next part of the problem. You will only be considered for recruitment if you solve all the problems. The problems may involve research, analysis, assessment of gathered intelligence and more.
To start, go to Room 1.  The aim is to test your CI skills by solving the problem – that will give the password to the next part or room.
Good luck and enjoy the problems. As a clue, apart from Room 1, all will look at a company or companies and an industry – as a mini-case study exercise.
The escape room challenge will test your competitive intelligence research and analysis skills with simple problems to solve. Some involve research skills. Some analysis and deduction skills. Some general knowledge, logic and reasoning. Can you crack them all to get your new job.